NWA 2733 - 243g Main Mass With Unusual Ablation Feature
Northwest Africa 2733 was purchased in 2007 from a meteorite dealer in Dakhla, Morocco. The stone was a single whole piece weighing 278.7g. The meteorite was classified as a very rare Carbonaceous Chondrite, CO3.6 of which only eight other meteorites have been classified as. Three of those are Antarctic finds and another is the 2006 Norwegian fall, Moss. The other three are NWA specimens. The exterior of the stone has a slightly desert varnished exterior but a sea of tiny pale chondrules in clearly visible through that. The cut face reflects the same and displays as a beautiful example of a primitive type-3 carbonaceous chondrite. There is also a very unusual feature on the bottom of this stone where a deep ridge appears to have been ablated out during atmospheric entry. The 243.2g Main Mass below is part of the Meteorites Australia Collection (MA.07.0020).

NWA 2733 (CO3.6) - 243.2g Main Mass
Enlargement ---> 1500 x 998 (339KB)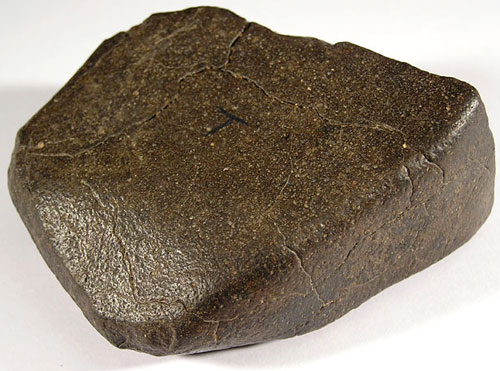 NWA 2733 (CO3.6) - 278.7g Stone Before Slicing (Top)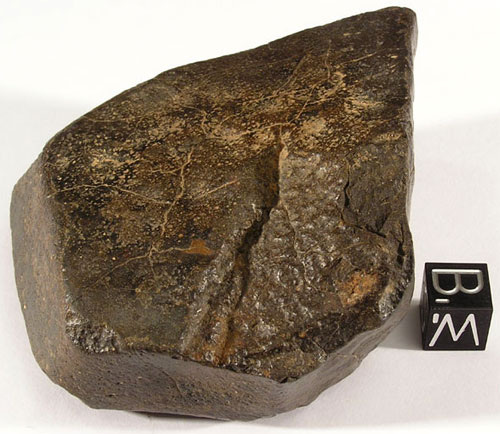 NWA 2733 (CO3.6) - 278.7g Stone Before Slicing (Bottom)
Back to 'The Unusual Meteorites Features Page' menu...