NWA 3159 / Northwest Africa 3159
The first NWA 3159 stone was discovered in August, 2005 in the Sahara Desert, Africa. This initial stone weighed 33.6g (pictured below) but another several stones were later found and purchased bringing the Total Known Weight (TKW) up to 397g.
This meteorite has been classified by the University of Washington with a description mentioning that it is a "monomict breccia composed of rock and mineral clasts derived from a plutonic eucrite." The classification also states that this meteorite contains "Calcic plagioclase, exsolved pigeonite, silica polymorph, troilite, Al-Ti-poor chromite and ilmenite (one grain with a very tiny zircon inclusion). FeO/MnO ratios in host orthopyroxene (30.8) and exsolved clinopyroxene (30.0) are typical of eucrites"
The plutonic description would refer to the deep igneous or magmatic origin of this meteorite within the asteroid. This meteoritic material would have been later liberated during an impact event upon this asteroid. This meteorite is very unusual and unique with its obvious light coloured clasts set amongst a rich, contrasting charcoaled-coloured array of melt veins. There are also many vesicles throughout this meteorite which are primarily enclosed within melt veins. Some of these range up to centimetre-sized cavities. This is extremely rare and only a few Eucrites to date have been found with vesicles. The specimen below is an 8.7g Complete Slice and is part of the Meteorites Australia Collection (MA.06.0002). (High Resolution images also available below.)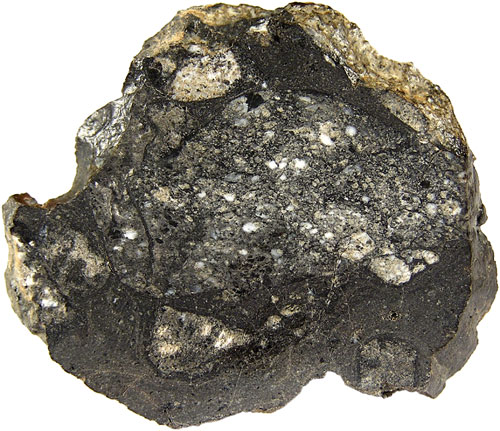 NWA 3159 (Eucrite) - 8.7g Complete Slice
(Click image to enlarge in new window.)

NWA 3159 (Eucrite)
Approx Image Size: 7.6" x 6.6"
Resolution: 300 DPI
File Size: 3.34MB
Copyright © 2006 Meteorites Australia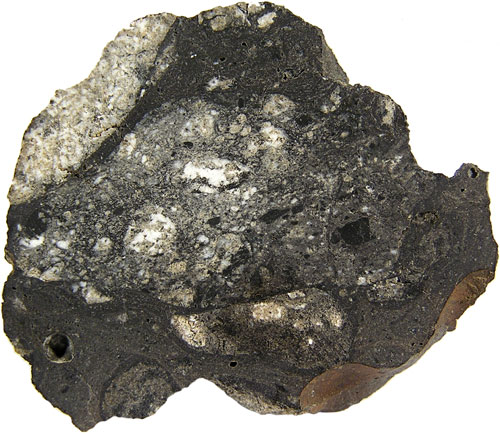 NWA 3159 (Eucrite) - 8.7g Complete Slice
(Click image to enlarge in new window.)


NWA 3159 (Eucrite)
Approx Image Size: 8.2" x 7.1"
Resolution: 300 DPI
File Size: 3.54MB
Copyright © 2006 Meteorites Australia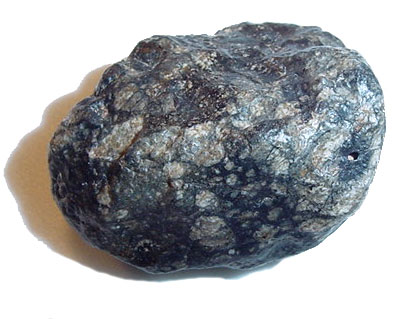 NWA 3159 (Eucrite) - Initial 33.6g Individual found in August, 2005.
(Photograph courtesy of The Hupé Collection.)
Click here to view the archive of the Monthly Favourites