NWA 2705 (Northwest Africa 2705)
Northwest Africa 2705 (NWA 2705) was discovered during 2005 in the Sahara Desert. A tiny 30g crusted and oriented shield-shaped meteorite is all that was found. It has since been classified as a rare Ureilite with a Shock Rating of S2 and is virtually unweathered with a Weathering Level of just W0. NWA 2705 displays beautiful green/yellow/orange olivine crystals which are actually separated by black interstitial carbon (Diamonds). There is also a large amount of fine grained graphite inclusions in olivine and pyroxenes. The average values (vol. %) for silicate analyses are - Olivine: 95%, Pigeonite: 3%, and Orthopyroxene: 2%. Within this particular endcut, it is also evident that there is a small amount of metallic iron veinlets, webbing around the olivine crystals like a tiny road-map. Some of the metal has fallen out which probably occurred during slicing and polishing. The last image indicates the metal in a magnified view as white specks and lines trailing through the dark matrix. Virtually all Ureilites have metal veinlets but they are quite low in Nickel and are easily oxidised from weathering. For this reason, only fresh Ureilites will still have these metal veinlets present.
Only 5 pieces were available to collectors after the type-specimen and cut/polishing loses were taken into account. They were a 3.8g and 3.2g Endcut along with complete slices weighing 2.9g, 2.7g & 2.4g. This specimen is the 3.2g Endcut (2 of 5) and is part of the Meteorites Australia Collection (MA.05.0099).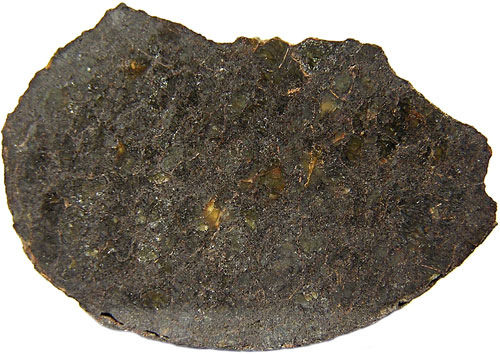 NWA 2705 (Ureilite) - 3.2g Endcut (Front View)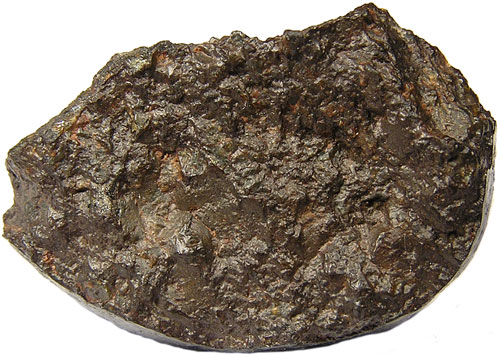 NWA 2705 (Ureilite) - 3.2g Endcut (Back View)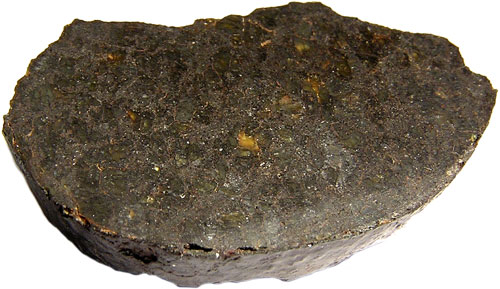 NWA 2705 (Ureilite) - 3.2g Endcut (Front/Side View)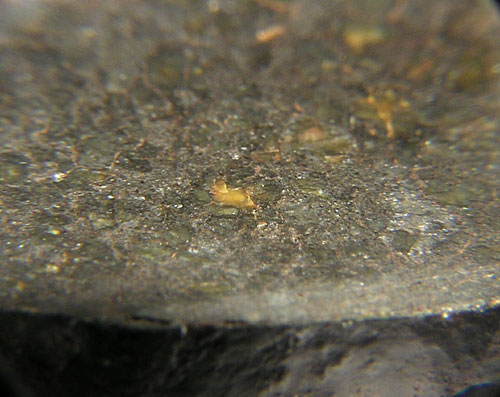 NWA 2705 (Ureilite) - 3.2g Endcut (Magnified Front/Side View)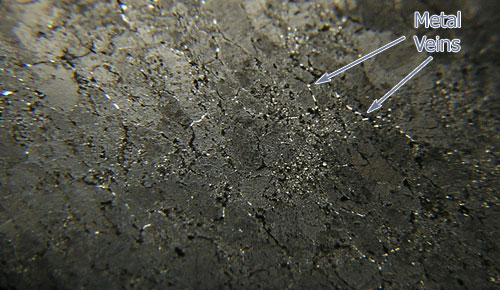 NWA 2705 (Ureilite) - 3.2g Endcut (Magnified - Metal Veins)
Click here to view the archive of the Monthly Favourites