Aubres & Abee
Aubres - This meteorite fell on the 14th of September, 1836 at Nyons, Drome, France and is one of the rarest and most difficult meteorites to obtain. Aubres is also the 'Type-Specimen' or 'Name Sake' for the rare Achondritic class; Aubrites. Only one relatively small stone of 800g was recovered however much less than that is presently accounted for. This specimen is part of the Meteorites Australia Collection.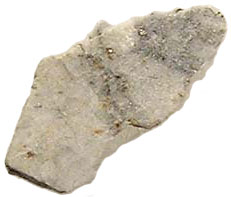 Aubres (Aubrite - Type Specimen)
0.042g Partslice
Abee - Abee fell at 11:05pm local time on the 9th of June, 1952 about 80km North of Edmonton, Alberta, Canada. There is a TKW of 107kg. Abee is somewhat of a rarity in the meteorite world as it is the only known EH4 Impact-Melt Breccia.


Abee (EH4 - IMB)
0.55g Partslice
Click here to view the archive of the Monthly Favourites